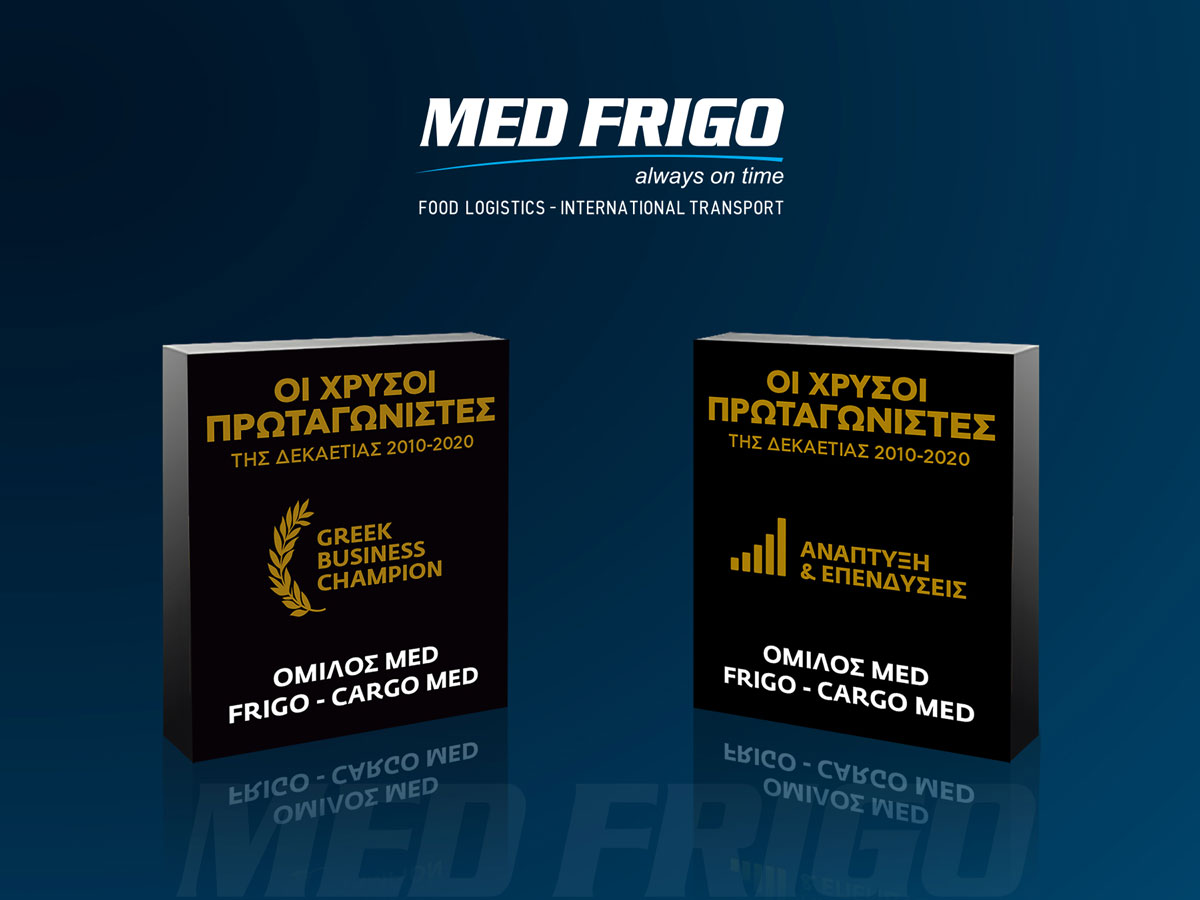 MED FRIGO, CARGO MED are recognized as Protagonists of Greek businesses for the decade 2010 - 2020
07/27/2021 - 10:43
At the top of Greek Entrepreneurship in the decade 2010-2020 remained MED FRIGO and CARGO MED, which emerged as "Golden Protagonists", standing out for their financial performance, solid development, and extroverted action.
This new, double distinction was made in the context of the awards-institution "GOLDEN PROTAGONISTS OF THE GREEK ECONOMY 2010-2020", organized for the 6th time by the Direction Business Network, under the auspices of the Ministry of Development at Alimos, on Monday, July 19th 2021.
Honored with the presence of high-ranking business executives, financial agents and representatives of the academic community, the companies that in a very special period for the Greek economy managed not only to meet the challenges, but also to emerge even stronger and more shielded.
The MED FRIGO group, was awarded in two sub-categories:
"Growth and Investment", awarded to companies that made significant investments supporting the Greek economy
• "Greek Business Champions", as one of the leading companies in the supply chain sector, based on the cumulative turnover and total pre-tax profits recorded in this specific financial period.
In a decade marked by intense challenges and reorganizations in both financial and sanitaria sectors, MED FRIGO hasn't lost its focus on the vision of sustainable development. With systematic work, long-term planning, and extroversion, manages to remain a leader and one of the healthier production units of the Greek economy, achieving stable and continuous growth.
Specifically, within this decade, MED FRIGO built two new modern logistics centers, achieving an increase in turnover of more than 75%. Expanded its fleet of refrigerated trucks by 160%, modernized and invested in systems and high-tech equipment, but also invested in human resources, generating in this period a total of over 140 new jobs.
It is typically stated: "The new awards reflect the great team effort of all the employees to offer top quality services. Our vision and principles, and the unremitting effort of all the employees for responsible, efficient and Always On Time service of our customers-partners was rewarded. At the same time, these distinctions are a commitment to continue to be among the best, achieving stable and sustainable development, constantly conquering new goals".
The awards, on behalf of the MED FRIGO group, was received by Konstantinos Kiapekos and George Vasilakopoulos, Director of Logistics and Commercial Director, respectively.